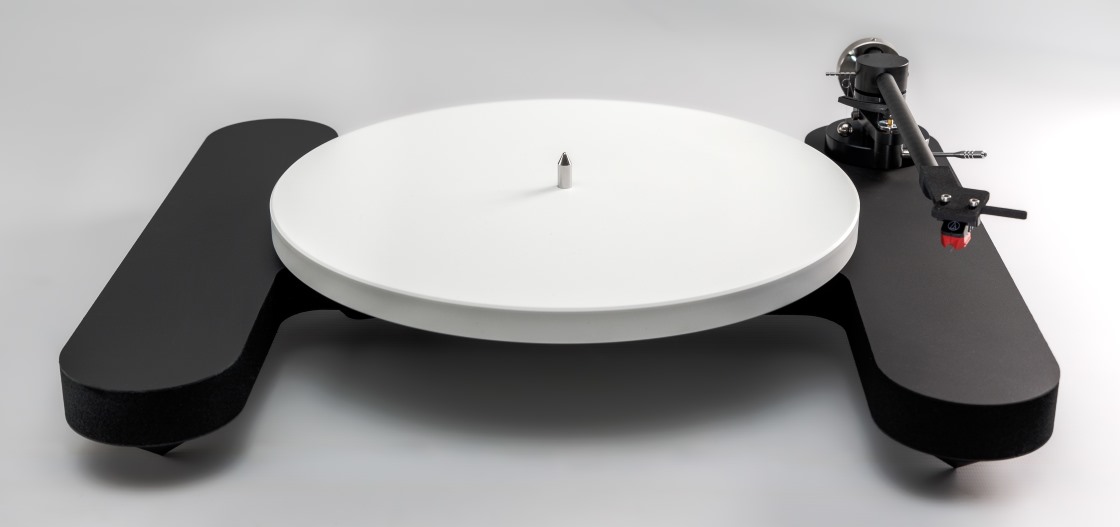 The lightness of being
The H1 model is the result of consistent resonance and vibration tests. This involved testing how the moving components, e.g. the motor, the bearing, etc., affect the sound. To achieve the best possible result, the chassis of the H1 was made of a very light but strong rigid foam bonded to a stiff laminate. The shape and material of the chassis transmit virtually no vibrations or resonances towards the tonearm.
The pure chassis weighs only 600 grams, but has a high stiffness.
Possible engine malfunctions were largely prevented in advance by the special suspension and the electronic control system, which is individually adapted to each engine. 
The eye listens too
The matte surface and the shape of the chassis give the turntable an elegant and slim appearance. All surfaces are also extremely resistant to fingerprints. 
The platter is made of white solid surface material, which is precisely manufactured on our CNC machines. This material is very low in resonance and is particularly well suited for use as a turntable due to its material mix and relatively high density. 
Newly developed tonearm K2 from Luphonic
During the development of our tonearm, different concepts and materials were tested. From the specifications, requirements such as stiffness, zero backlash, low resonance, easy height and azimuth adjustment, shapely appearance could be realized.
The tonearm has a classic gimbal design and is equipped with precise, backlash-free miniature ball bearings. The tonearm tube is made of carbon and the headshell is made of a glass/plastic compound with low weight and high rigidity. The integrated phono cable is designed with low capacitance.
Operation via external control unit
The synchronous motor is controlled by a digital controller that generates precise sine and cosine waves. To enable low-vibration operation, each control unit is precisely calibrated to the respective motor.
Get to know the Luphonic H1
Ultimately, all technical efforts have been made only for the goal of excellent sound. And you can only experience this when you listen to the H1. The sound of the H1 will delight you, its dynamic and detailed playing will convince you.
Principle
Drive

Speeds
Speed accuracy 
Chassis
Platter
Tonearm
Dimensions
Color
Belt-driven turntable
Synchronous motor, controlled by microprocessor
Flat belt via sub platter
33 1/3 and 45 rpm, electronically selectable
0,07 % WRMS DIN
HPL laminated rigid foam
Height adjustable feet
Material: Solid surface, Heigth: 0.7" (18 mm), Weight: 3lb (1.2 kg)
Luphonic K2, für leichte und mittelschwere Tonabnehmer
W 17.3", H 5.5", D 14.6" (W 440mm, H 140 mm, D 370 mm)
matt black with white platter