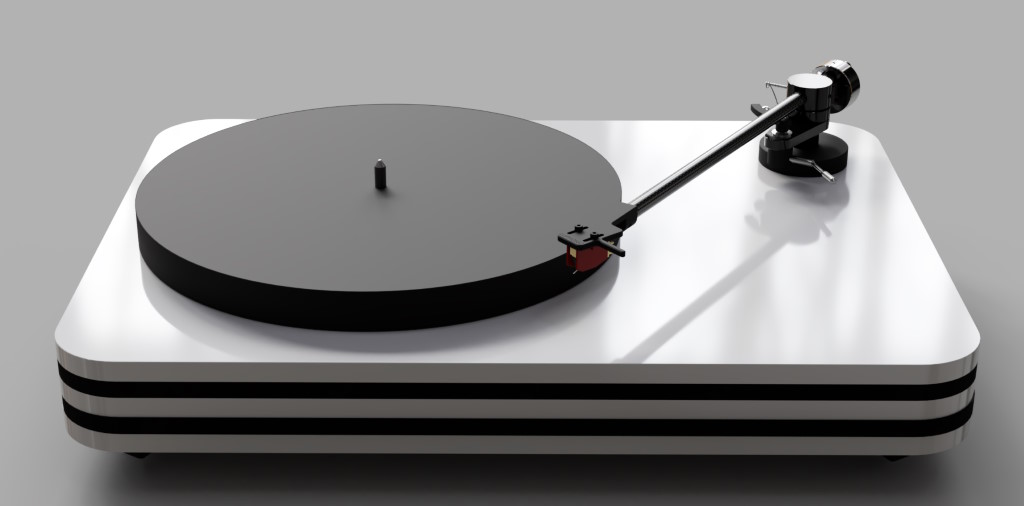 Concept and materials
The new R3 is a subchassis drive with sufficient mass to provide a solid acoustic foundation for tonearms of sizes 9 to 12 inches. A special feature here is the rotatable tonearm base, which makes it possible to mount tonearms with a center distance of 200 mm to 300 mm. This can be done easily and quickly by the owner. The arm base is adjusted to the correct distance with the aid of a template. Due to the consistently positive acoustic results of our two models H1 and H2, solid surface material was also chosen as the dominant material for the R3. The two intermediate layers dampen possible external and internal disturbances.
Drive
The R3 is equipped with advanced motor electronics that keep the synchronous motor at a precise speed under sensor control. This compensates as far as possible for influences caused by aging of the belt, climatic changes or different pickups, support weights and the resulting varying grooving forces.
Each control electronics is precisely calibrated to the respective motor before delivery with regard to the most important parameters such as amplitude and phase position. This guarantees an almost inaudible drive.
Operation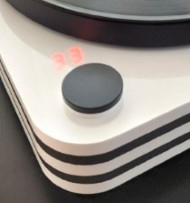 The puck control system proven in the H2 has also been used in the R3 and impresses with its touch-free operation and digital display of the selected speed. The display also shows additional information.
Tonearm
The R3 is supplied either with the K2-9 in 9.5 inches or with the new 12 inch K2-12. The K2 is a gimbal-mounted tonearm with carbon arm tube and a wide range of adjustment options. 
However, tonearms from other manufacturers with an adapted tonearm mount can also be installed.
Principle
Drive

Speeds
Speed accuracy
Chassis

Platter
Tonearm
Dimensions
Weight
Color

Belt-driven turntable
Synchronous motor, integrated motor control
speed regulation by sensor
33 1/3 and 45 rpm, electronically selectable by puck
n. n.
Mineralwerkstoff in resonanzoptimierter Sandwichbauweise,
feets height adjustable, rotatable tonearm base (9-12")
Solid surface material, height: 24mm
Luphonic K2, 9.5" or 12"
W 510mm (20"), D 370mm (14.6"), H 150mm (5.9")
15.2 kg (33.5 lbs)
White chassis, black platter